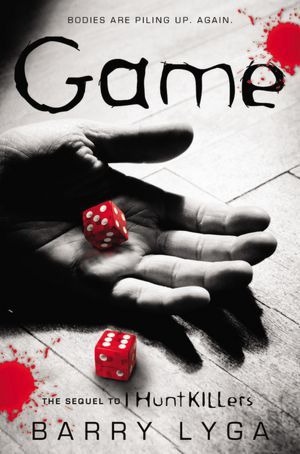 Netgalley approved me for books #1-3 in the series, which is super exciting because now I get to read them all at once & not suffer through cliff-hangers like the people who actually had to
wait
. Oh, and by the way, the cliffhanger at the end of this book? It is a
mean mother
of a cliffhanger, & I suggest having book #3 on hand before starting or you might just become a murderer too.
(You can read my review of book one
here
.)
Jasper Dent is the son of Billy Dent, a serial killer with about five or six monikers who is probably just as evil and devious as Ted Bundy. In the last book, Jazz accidentally helped his father escape from a maximum security prison and now Billy is free in New York, with millions and millions of victims to "prospect."
And oh, yes, he wants to play a game with them. And let me tell you,
I love books about serial killers who like to play games
.
So it's totally not like I'm biased or anything. *cough*
Jazz is pretty emotionally exhausted at this point, the poor kid. I mean, he helped his dad escape to murder more people, & he feels partially responsible for the murders the Impressionist (another serial killer) caused in book #1, even though he helped capture him. And word gets around because pretty soon the NYPD come a-callin' and are all, "Hey, we have ANOTHER serial killer on our hands. This one's called the Hat-Dog killer & he cuts off peens, gouges out eyes, & puts guts into KFC buckets. PLEASE HELP US CATCH HIM, K?" So Jazz goes to New York and more wtfuckery transpires.
There is character development in this book, and I loved the depth of Jazz's angst. I suspect he is a sociopath as well, but a nonviolent one, in spite of what his dear old da would like to believe. Connie wants to take their relationship to the next level but Jazz is terrified of sex because for his father sex and killing went hand in glove, and Jazz is so brainwashed he thinks it might unlock his inner-killer.
We also meet Jazz's Aunt Samantha, Billy's older sister. Jazz's friend Howie decides that she is his love interest, and I have to say, I was pretty squicked out by all the descriptions of Howie talking about how much he wanted to bone this older woman because Howie is 17 & Samantha is, what, 40-something? I have no problems with May-December romances where the woman is older, but Howie is seventeen and that is just too young, which made it very creepy for me. Especially since the author seemed to find it hilarious. I am sorry, but that is not funny. I hope they don't end up together.
One thing I really didn't like about GAME was all the POV swaps. They really bogged down the story. There were some scenes with Howie and Aunt Samantha that could have been cut. I also feel that some of the Connie-fighting-with-her-family scenes could have been cut as well. The first 200 pages of GAME moved
really
slowly, and it wasn't until the last 100 that things really began to pick up. The last 100 pages I finished in about an hour because I literally could not put the book down (or, I guess, close the window, since I was reading this on my comp. But w/e).
That twist. It was pretty great. I was not expecting that. I was not.
Although I would have liked for some of my questions to be answered. My friend Myrika was laughing at me on Gchat because she sped through books 1-3 after I told her how much I liked book #1 and I was pestering her with theories, until finally she was all, WANT ME TO TELL YOU HOW IT ENDS?" And I was like, "NOOOOOOOOOO." But apparently it's really grim stuff & I'm going to be traumatized for life after finishing book #3. And this is coming from a woman who writes stories so dark that they make mine look like sunny walks in the park, so that fucking tells you something.
Seriously, though, HOLY MOTHER OF CLIFFHANGERS, BATMAN.
That's just cruel. I bet when this was first published, Mr. Lyga got a lot of angry fanmail.
2.5 to 3 out of 5 stars.